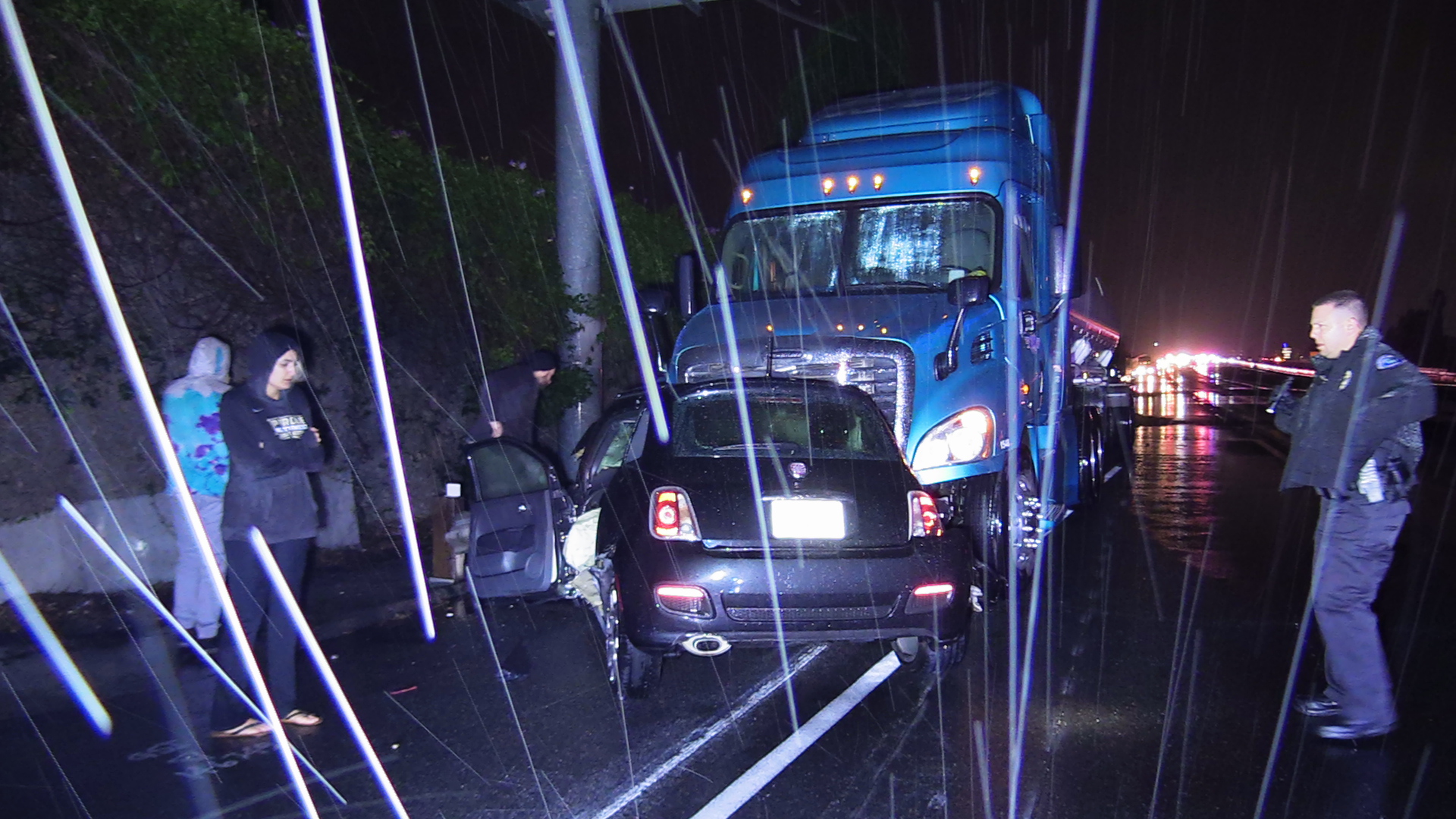 An 18 year old from San Diego was killed in a crash in the rain on the southbound 405 freeway north of Harbor Blvd. in Costa Mesa shortly before 3 a.m. Thanksgiving morning.
The Fiat the teen was riding in struck a car on the freeway and became disabled with its lights off on the freeway. The 18 year old driver was thrown from the car on impact and an 18 year old male passenger escaped the car on his own, leaving an 18 year old male and a 17 year old male in the backseat.
A big rig propane tanker loaded with 9300 pounds of liquid propane then slammed into the blacked out car pushing it nearly 1/8th of a mile down the freeway wedged under the front of the truck.
The truck came to a stop on the right shoulder of the freeway with the Fiat on fire. The truck driver, a 63 year old man from Menifee, worked quickly to put out the fire using 2 fire extinguishers that were on his truck.
He managed to put the fire out and a Costa Mesa Police Officer quickly arrived followed by Fountain Valley Fire Department Paramedics and a truck company from the Costa Mesa Fire Department, along with more Firefighters from the Huntington Beach Fire Department.
Firefighters performed a complicated extrication with the jaws of life and other cutting tools to free the badly trapped teens.
The 18 year old was carefully lifted out of the back of the Fiat after Firefighters cut it apart and into a waiting ambulance. He was taken to a trauma center with serious injuries.
The injuries to the 17 year old were so significant that he was pronounced dead at the scene by Paramedics.
In addition to the driver of the Fiat and the back seat passenger, another person from another car was transported to a trauma center by ambulance.
All southbound lanes of the 405 were closed to traffic for several hours as the California Highway Patrol investigated the accident and crews cleared the wreckage and debris.
As many as 7 cars and the propane truck were involved in the incident.